Jack & Etta Jean Watters Memorial Scholarship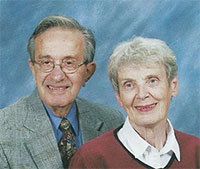 The family of long-term community leader and Marshfield Mail owner/editor Jack Watters established this scholarship for the purpose of providing financial assistance to a college-bound senior from Marshfield High School.  To be eligible, the MHS senior must have financial need, have maintained a 3.0 cumulative GPA during junior and senior years, and have shown active participation in community service and extracurricular activities.  The Marshfield Public Schools Foundation administers the award, based upon the annual investment income of an endowment of $30,000.  Funds are paid in two installments, at the end of the first and second semesters, upon verification of student's full-time enrollment and GPA of 2.5 or above. Scholarship is renewable for three additional years, subject to maintenance of minimum GPA.  No new recipients will be awarded until previous recipient has graduated, or exhausted a total of four years.

This scholarship was created to honor the memory of Jack and Etta Jean Watters, both strong believers in the high value of education.

A lifelong resident of Marshfield, Jack was a reporter, editor and publisher of The Marshfield Mail from 1951 to 1989. He contributed his time and energy to numerous city organizations, including 15 years on the Marshfield School Board.

During that time, two bond issues were approved to finance building construction in the growing district. In 1978, he received the Distinguished Service Award from Missouri State Parent-Teachers Association, and in 1988 he was honored for "Outstanding Contributions to Education" by Southwest Missouri School Administrators.

Etta Jean, who lived in Marshfield for more than 60 years, was a school volunteer and tutor, and helped lead a Girl Scout troop.

She and Jack also were believers in the value of international connections in advancing education. They were among the organizers of the Marshfield chapter of the American Field Service, which brings foreign high school students to study in the United States.

After their passing in 2015, this scholarship was established by the family to assist graduating MRS students who may have struggled academically early on but later sharpened their focus on a career plan through higher education. It is not necessarily based on academic standing.

Jack and Etta Jean were supportive of the community's youth and encouraged many individuals to realize their potential.